HP MediaSmart EX485/EX487 Review
Posted on Jan 31, 2010 by HappyBison
Overview
Recently I got a nice offer for an HP MediaSmart Server EX485 so I decided to get one for myself and check out what's inside of this little animal. Additionally, it would be nice to compare with my Acer easyStore H340 and compare one with another.
I will not be going into a deep review about EX485/EX487, but instead I'm going through different hardware tweaks and trick, and compare with similar Acer H340 unit on the power consumption, performance, etc. Ok, enough excuses, let's get to the business..
The EX485 comes in a little tower case and has 4 hot-swappable hard drive bays. It has a built-in Gigabit Ethernet, Intel Celeron 440 2GHz CPU, 2GB of DDR2 Memory, USB and eSata ports, and... that's it. Good enough for a home server. It comes installed with Windows Home Server (the same as in Acer H340).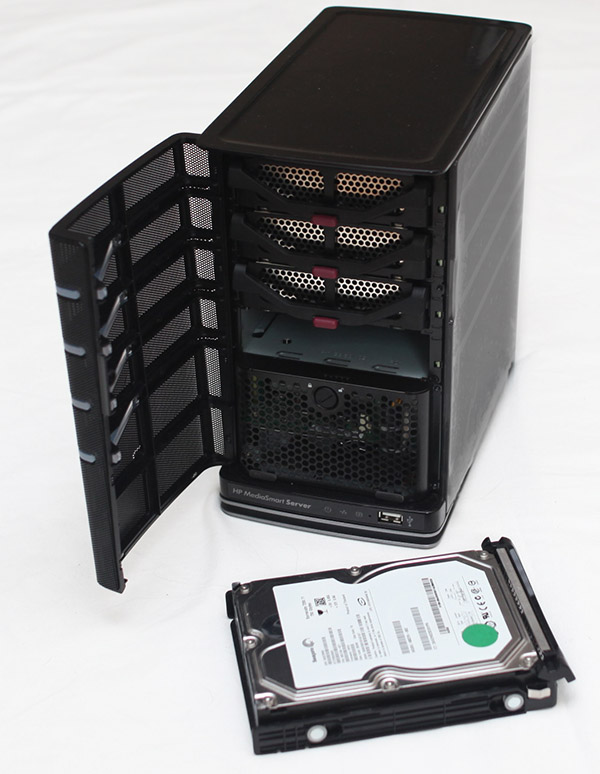 Let's see deeper at what each thing may mean to us:
4 Hot-swappable hard drive bays: 4 standard 3.5" SATA/SATA-II drives can be installed in the unit. It is occupied with one 750GB drive (EX485) or 2x750GB (EX487). In case if you use Windows Home Server, the first drive with OS can't be hot-swapped due being used by Windows.
CPU is Intel Celeron 440 2.0GHz. The CPU comes installed in the socket so it can be replaced. It's LGA 775 (Socket T) socket.
2GB DDR2 Memory. The memory is one single module (the motherboard has one slot only) and it's running at 800MHz.
4 USB 2.0 ports (3 on the back and one on the front).
One eSata port on the back.
Hardware
I opened the unit to see what kind of motherboard it uses to see what kind of upgrade capabilities does it have. The server has 2 big fans on the back which are pushing the airflow through the unit from front to the back. CPU and North bridge has passive heatsinks. According to the temperature monitor the CPU gets up to about 50 C, which is not bad. The motherboard has one slot for the memory which limits our capabilities for a memory upgrade. I believe you can put 4GB memory instead of the stock 2GB, but I did not try it personally. In my own opinion you would not need 4GB, unless you want to upgrade an existing Windows Home Server OS to something else to get all benefits of extra memory.
CPU Upgrade. Is it worth it?
Since this server has its CPU mounted on the socket so I asked myself a question: what if I'll upgrade this CPU to something faster? Will I see the difference? What's the difference in power consumption and perforce? There is no answer to this question because everyone has a different task for a file server. I mainly use a file server to serve files on the network so this is what I'll use to measure the difference.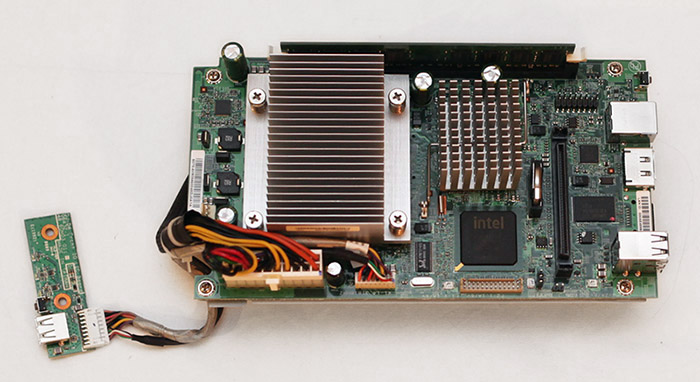 Picture: HP MediaSmart Server EX485/EX487 Motherboard and USB daughterboard (left heatsink is CPU, right -- north bridge)
The original Intel Celeron 440 CPU is single 64-bit core running at 2GHz clock, 800MHz FSB and 512KB L2 Cache. TDP is 35W. S-code is SLAE9.
My upgrade CPU is Intel Core2 Duo E6550. That's two 64-bit cores running at 2.33GHz clock, 1333MHz FSB and 4MB L2 Cache. TDP is 65W. You can easily get one for less than $100 on eBay.
Both of them are Conroe 64nm (Celeron 440 sometimes referred as Conroe-L due to lower power consumption).
All measurements were done using 4 files 2GB each (that's 8GB total) by transferring it to the server and from the server. I used big files so the memory cache would not "fake" our test results. The power consumption was measured with one 750GB drive installed. My client machine is Windows 7 system with Gigabit ethernet built-in on the board. The "Far Copy" test is done using Far File Manager with a special plugin, it was included because it use client's memory and is not so dependable on the local drive's speed.
| | | |
| --- | --- | --- |
| | Intel Celeron 440 | Intel Core2 Duo E6550 |
| Windows File Copy (write) | 41MB/sec | 45MB/sec (10% increase) |
| Windows File Copy (read) | 40MB/sec | 44MB/sec (10% increase) |
| Far Copy (read) | 52MB/sec | 66MB/sec (27% increase) |
| Far Copy (write) | 50MB/sec | 51MB/sec (2% increase) |
| CPU Temperature (load) | 47 C | 55 C (15% increase) |
| Power consumption (idle) | 43W | 48W (12% increase) |
| Power consumption (load) | 52W | 55W (6% increase) |
Seems like for my own task the CPU upgrade will bring some speed improvements. The temperature went up, but still within a normal range. A simple data transfer task does not use much of dual-core configuration so I may get some additional improvements when doing other more CPU intensive tasks.
Comparing HP MediaSmart EX485 vs Acer easyStore H340
Here is a table with some specs compared to get a quick idea on what's the difference between those two servers:
| | | |
| --- | --- | --- |
| | HP MediaSmart EX485 | Acer easyStore H340 |
| CPU | Intel Celeron 440 2.0GHz 64-bit (LGA 775) | Intel Atom 230 1.6GHz 64-bit (soldered. not upgradeable) |
| Memory | 2GB DDR2 800MHz (up to 4GB) | 2GB DDR2 (not upgradeable due to chipset limitations) |
| Installed HDD | 750GB SATA (Seagate ST3750630AS) | 1.0TB SATA (Western Digital WD10EADS) |
| OS | WHS | WHS |
| Chipset | Intel G33 Express + ICH9R | Intel 945GC Express + ICH7R |
| Power consumption (idle) | 43W | |
As mentioned above, the difference between EX485 and EX487 is that EX487 has two 750GB drives instead of one drive as on EX485. The number of hard drive bays are the same -- 4 bays total.
External links