The Chenbro ES34069 Case Review
Posted on Nov 06, 2009 by HappyBison
The Chenbro ES34069 Case Review
Intro
As many of you, I have several computers at home. That's including a desktop and a few notebooks. All of them are different level of hardware and software (Windows, Linux, FreeBSD, Mac OS X, etc), but all of them need a storage space. I always prefer to have most of the data centralized so I can give a proper attention (backups, maintenance, etc) at one piece of hardware.
About 3 years ago I built a network storage drive (utilizing FreeBSD and software RAID for higher reliability). When looking at today's technology I decided that it's time to upgrade. I'll leave the fact that I was at 99% space usage on my storage drive
When I was looking for a small case for my storage project, I needed something to fit into the following requirements:
Mini-ITX form factor.
Be able to accommodate at least 3 x 3.5" SATA Drives (I was expecting to build RAID5).
Good air flow and low noise.
My budget was about $170-$200 for the case. I compared many barebones, complete systems and empty Mini-ITX cases. I saw some nice cases, but most of them were either too big or could get up to 2 x 3.5" Drives only. After a long search and trying different configurations I come up that Chenbro ES34069 is the case I am looking for. It fits into my requirements as:
Being small enough to fit Mini-ITX (dimensions are slightly over 10"x5"x10").
Accepts 4 x 3.5" SATA Drives. Hot-swap (better than I expected, so I can either make RAID6 or RAID5+spare).
Air flow is good (more on that later).
It also fits within my budget ($175 @ Newegg). I saw that you can buy one on eBay for about $150 or so.
Specifications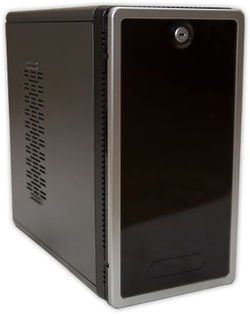 Here are the specs from Chenbro website:
Removable Hard Drive bays: 4 x 3.5" SATA/SAS.
Internal Hard Drive bay: 1 x 2.5" laptop hard drive.
Optical Drive bay: Slimline CD/DVD drive.
Form-factor: Mini-ITX / Mini-DTX.
Cooling system: 2 x 70mm fans (located in the back), optional 60mm fan in the front.
Front connectors: 2 x USB.
Front panel: Power button, Reset button, optional SD/MS card reader.
Front indicators: Power LED, HDD Activity LED, 2 x LAN Activity LED, Alarm LED.
Chassis Dimension (D x W x H): 10.24" x 5.51" x 10.24"
Material: Steel (SECC).
Power supply: External 120W adapter (19VDC, 9.5A).
The built-in converter board is 180W, which means you can buy 180W Power supply if your requirements need more power.
Overview
Internal chassis
The case has 2 separate levels inside for components: one compartment is for the drives (also contains DC converter board for power supply), while another one is for the motherboard and add-on cards. Let's call it "Motherboard level" and "Hard drives level" for simplicity. The internal case's structure is removable for easier installation of the motherboard.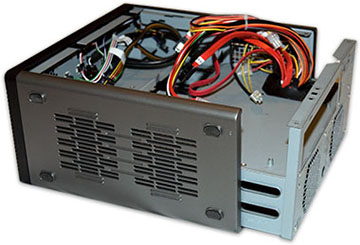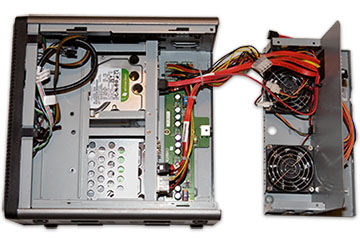 Connectors
The ES34069 case comes completed with four SATA cables which are connected to the SATA backplane and goes out to the motherboard level. The ATX power cable goes the same way from DC converter board and it's long enough to accommodate different styles of Mini-ITX motherboards. The ATX connector is 20-pin plus 4-pin additional plug to support different configurations. The motherboard level has a limited space above for low-profile components only (there is about 2.25" space only). If you are installing any PCI/PCI-e cards on the motherboard, you'll have to use a riser card for it (can be found on eBay for about $5-$10).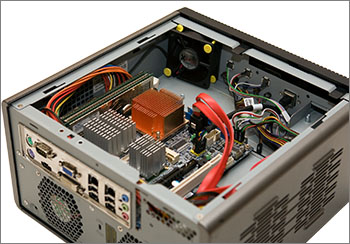 Cooling system
Two rear fans are for hard drives and DC converter board only. These are almost silent, but you can hear them. I'm still thinking if I want to replace those to low-noise type of fans as I expect to have this box sitting under my table all the time.
The fan in the front is for the motherboard level. To keep the noise down I removed fan from CPU heatsink and put a low-noise 60mm fan in the front to get a better air flow and lower the overall noise of the system.
I used SilenX 60mm 12 dBA (available for $11.99 @ Newegg), which should be fine for air flow. If you need more air power, SilenX has 16 dBA ($9.69 @ Newegg) with more air pressure (and slightly more noisy).
My SilenX fan has a small resistor on the power cable to keep the speed low (and noise down).
Conclusions
The Chenbro ES34069 case is a nice unit, which can be used to build a small but powerful network storage or multimedia library. I like the ability to hot-swap drives and having all components split into two different levels for easier installation and access. I still get some extra space on the motherboard level for some add-ons (which I did not come up with yet).
Pros:
Good internal layout.
Good air flow (2 fans in the back, 1 or 2 fans in the front).
Four hot-swappable 3.5" SATA Hard drives.
Cons:
Requires a riser card for PCI/PCI-e cards.
Could be a little expensive for some.
External links